How to Create a Custom Announcements List using JSLink in SharePoint
With many clients that I have worked with, one common occurrence is the capability to be able to have announcements on their intranet home page. They want an easy-to-use experience for users to be able to add content, but for the look and feel to better suit the needs of their business.
Here is an example of a simple Announcements experience you can use for your users that is list-driven.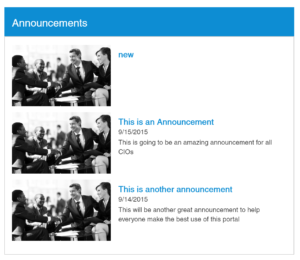 First Step, you need to create the "Announcements" list.
Create the following columns:
Title
PubDate
News Summary
News Author
News Image
The code – create a javascript file:
(function () {

 //Convert the input date 'item' to a Javascript Date object
 function convertPubDate(d) {
 return (
 d.constructor === Date ? d :
 d.constructor === Array ? new Date(d[0], d[1], d[2]) :
 d.constructor === Number ? new Date(d) :
 d.constructor === String ? new Date(d) :
 typeof d === "object" ? new Date(d.year, d.month, d.date) : Nan
 );
 }

 //Return full name of month
 function getMonthName(mon) {
 switch (mon) {
 case 0: return "January";
 case 1: return "February";
 case 2: return "March";
 case 3: return "April";
 case 4: return "May";
 case 5: return "June";
 case 6: return "July";
 case 7: return "August";
 case 8: return "September";
 case 9: return "October";
 case 10: return "November";
 case 11: return "December";
 }
 }

 //Get formatted date string (e.g. January 1, 1970)
 function formatAnnDate(d) {
 return getMonthName(d.getMonth()) + " " + d.getDate() + ", " + d.getFullYear();
 }

 function getImageSource(currentItemImage) {
 var imageTag = '';

 if (currentItemImage !== null && currentItemImage !== '') {

 var htmlDoc = document.implementation.createHTMLDocument('');
 htmlDoc.body.innerHTML = currentItemImage;
 var imgWrapper = htmlDoc.body.children;

 if (imgWrapper.length > 0 && imgWrapper[0].children.length > 0) {

 var image = imgWrapper[0].children[0];
 var imgSrc = image.getAttribute('src');

 if (imgSrc !== null) {
 imgSrc = imgSrc.split('?')[0] + '?height=100&width=100';
 image.setAttribute('src', imgSrc);
 image.setAttribute('class', 'announcement-img');
 image.removeAttribute('width');
 image.removeAttribute('height');

 imageTag = image.outerHTML;
 }
 }
 }

 return imageTag;
 }

 var NewsOverride = {
 Templates: {
 Header: function (ctx) {
 return "<div class='" + ctx.ListTitle.toLowerCase().replace(/[\s|_]/g, "-") + "'>";
 },
 Item: function (ctx) {
 var ListTitle = ctx.ListTitle.toLowerCase().replace(/[\s|_]/g, "-");
 var HTML = "";
 switch (ListTitle) {
 case "announcements":
 HTML += " <div class='item clearfix'>\
 <img class='announcement-image' src='{{Image}}' />\
 <div class='announcement-content'>\
 <h4><a href='{{displayURL}}'>{{Title}}</a></h4>\
 <p class='date'> {{Date}}</p>\
 <p class='description'> {{Description}}</p>\
 </div>\
 </div>"
 .replace(/{{Title}}/g, ctx.CurrentItem.Title)
 .replace(/{{Date}}/g, ctx.CurrentItem.Publish_x0020_Date)
 .replace(/{{Description}}/g, ctx.CurrentItem.Description)
 .replace(/{{Image}}/g, ctx.CurrentItem.NewsImage)
 .replace(/{{displayURL}}/g, "https://meetdux.sharepoint.com/sites/doitt/Lists/"+ctx.ListTitle+"/dispform.aspx?ID="+ctx.CurrentItem.ID);
 break;
 case "members":
 HTML += " <div class='item clearfix'>\
 <img class='member-img' src='{{Image}}'>\
 <div class='member-content'>\
 <h4><a href='{{displayURL}}'>{{Title}}</a></h4>\
 <p class='name'> {{Name}}</p>\
 <p class='company'>{{Agency}}</p>\
 <p class='email'>{{email}}</p>\
 <p class='phone'>{{Phone}}</p>\
 </div>\
 </div>"
 .replace(/{{Title}}/g, ctx.CurrentItem.Title)
 .replace(/{{Name}}/g, ctx.CurrentItem.Name)
 .replace(/{{Image}}/g, ctx.CurrentItem.Image)
 .replace(/{{Agency}}/g, ctx.CurrentItem.Agency)
 .replace(/{{email}}/g, ctx.CurrentItem.Email)
 .replace(/{{Phone}}/g, ctx.CurrentItem.Phone)
 .replace(/{{displayURL}}/g, "https://meetdux.sharepoint.com/sites/doitt/Lists/"+ctx.ListTitle+"/dispform.aspx?ID="+ctx.CurrentItem.ID);
 break;
 }
 
 return HTML;
 },
 Footer: function (ctx) {
 if (ctx.ListData.Row.length == 0) {
 return "<p class=\"NoAnnouncements\">There is currently no news.</p></div>";
 } else {
 return "</div>";
 }
 }
 },
 ListTemplateType: 100,
 BaseViewID: 1
 };

 if (typeof SPClientTemplates != "undefined") {
 SPClientTemplates.TemplateManager.RegisterTemplateOverrides(NewsOverride);
 }
})();


Insert the url for the javascript file into the edit panel of the list webpart. Be sure to include the "~" at the beginning. It will require accessing the root site for the url to work.
 
After completing, your new announcements experience is ready for use.