How to create an Effective SharePoint Event Site
Many companies create days dedicated to learning within the organization. There are several items that go into making a great learning day experience. Let's review some of the necessities to make your experience have an impact.
1. Use a Communication Site Template
The Communication Site template provides the perferct opportunity for one-to-many communication capabilities. This type of site provides communication out to the organization and less collaboration making the communication site template a better choice than the traditional Team Site template.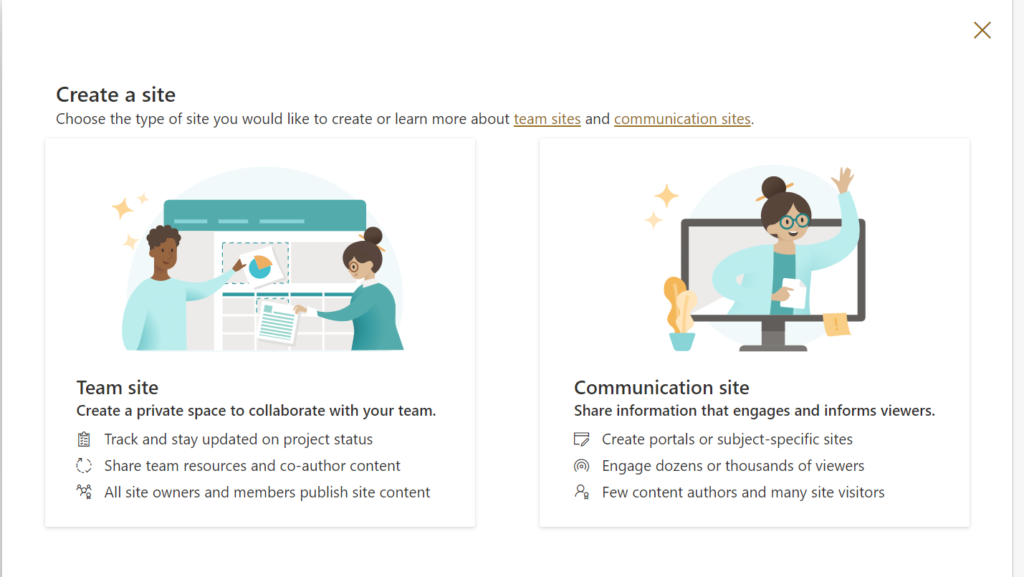 Create an About page
If you have ever attended an in-person conference, you will be familiar with having a page dedicated to what you should expect from the event. This can include the basic purpose of the event, what you should learn or be able to walk away with and important resources to help you consume the content of the day. It is important to not overload this page with too much content or multiple paragraphs of information. Users will want to consume information quickly and efficiently.
Quick tips:
Let people know a quick overview of the event
How many sessions will be available?
How many speakers are presenting?
Are your sessions going to be recorded and if so, where can a user access them later?
Ensure you have a call-to-action to help users register for the event.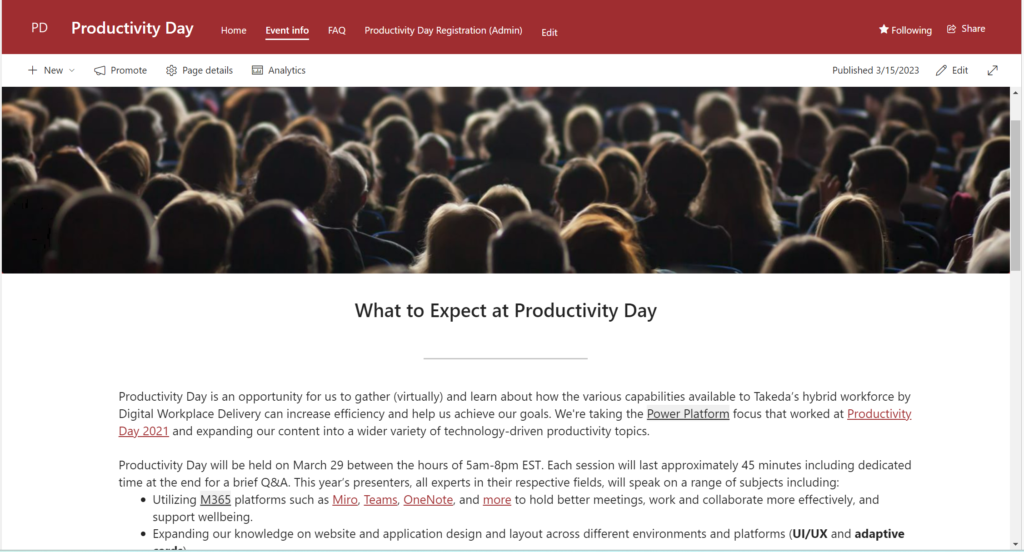 Provide FAQ Section/Page
You audience will always have common questions that will be asked such as "How do I register?" and "What time zone is the session in?" for global companies. Make sure to provide a page that can help to cover many of the high-level questions that your users may ask. This will help prevent additional emails coming to you or answering the same questions time and time again. To better facilitate the layout of the page, you should use a 1/3 left column to put topic or you can use it for the question. In the 2/3 right column, provide the answer of the question. Use a new row for each question to help provide better readability.
Use a PowerApp for easy registration
You can create an easy PowerApp that with the click of a button on the page can allow for a user to register without even needing to fill out a form. Once the button is clicked on the homepage of your new site, the message can tell a user thank you registering. This one-click capability decreases the amount of effort that a user needs to register for your event. You can collect the user's name and their email address to send them a confirmation email to have them add the event to their calendar.

Create pages dedicated to each session
On the session page, be sure to include an abstract about the session. The abstract should tell a user what the
session is about
what they should learn from it
who the speaker is
how to register if doing individual session registration
Any resources, decks, etc. that may be available ahead of time