Introducing the New Yammer Conversations Web Part
Microsoft has gained much feedback over the past couple years regarding Yammer and how organizations around the world are using it's capabilities to enhance and drive communication and collaboration throughout their organization.
One of the largest pieces of feedback regarding the Yammer web part is that it did not allow for the user to gain context of the conversation or allow for the ability to interact or comment as part of the conversation without being redirected to the Yammer application. As a result of this feedback, Microsoft has now rolled out the Yammer Conversations web part.
The new web part allows for users to interact with the conversations within the context of the conversation and without being redirected to the Yammer application.
How to Configure
Hover over the canvas that you would like to add the web part to and click on the "+" and select "Yammer Conversations" from the toolbox.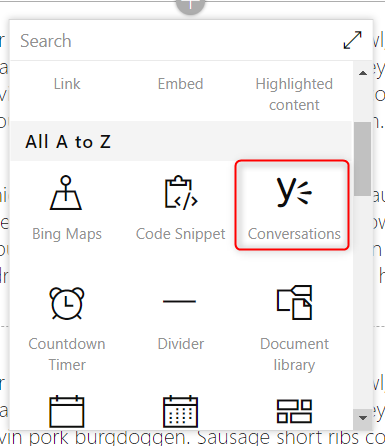 Click on the pencil icon to the left of the web part to open the web part properties panel.

Select which type of source you want to present from the dropdown menu.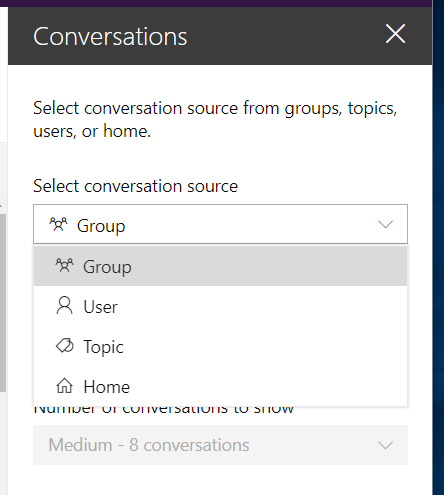 Search for a group or person to use as the source of the conversation as well as the number of conversations that you want to allow to be seen.

After configuring, publish the page and you will see the conversations available.

Best Practices
Yammer provides a great opportunity for conversations to grow organically through topics or areas of practice. Consider using the web part in a 2/3 column and in the smaller 1/3 column, create a listing of popular or related Yammer Groups to help with content discovery within your organization.
Remember to provide guidance and governance so users can be guided to make good choices regarding the content and how to interact within any company guidelines.